Tallin (Estonia), pospuesto a junio de 2021. La Sociedad Europea de Estética lanza un Call for papers para la próxima edición de su congreso anual, abierto a todos los enfoques y asuntos de la estética. El envío de resúmenes puede hacerse hasta otoño de 2010 (pendiente confirmar fichas exactas).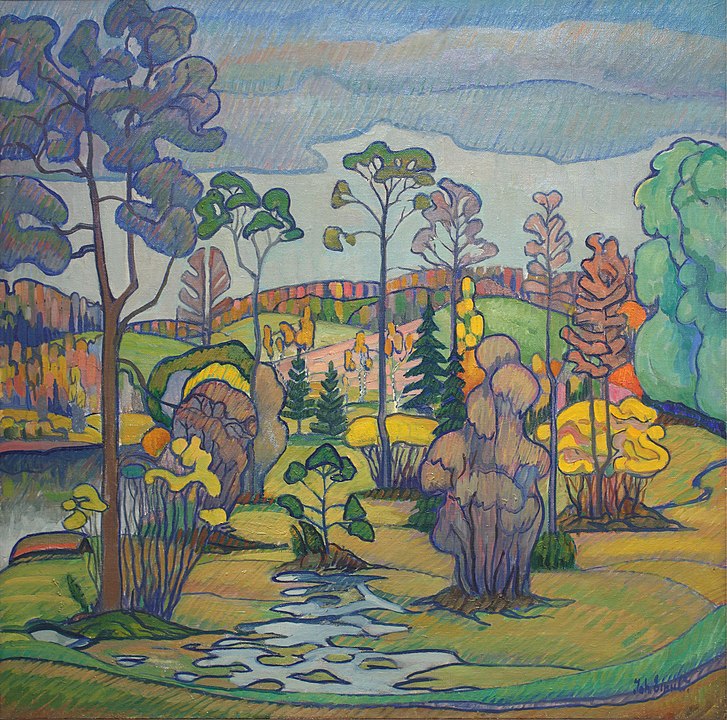 Johannes Einsild. Otepää landscape (1917)
We are very sorry to announce that we are postponing the 2020 conference in Tallinn to June 2021 due to recent developments regarding COVID-19. We are currently discussing the dates in June 2021 and will let you know as soon as possible to allow for rescheduling of flights/accommodation.
CALL FOR PAPERS WILL BE RE-OPENED
As our next conference will now be next year, we have decided to re-open the call for abstracts in the autumn (with a closing date in January 2021 as normal) since we cannot guarantee that all our participants who were hoping to attend this year will want to/be able to attend next year. You are very welcome to resubmit the same abstract again or submit something entirely new (we appreciate that just because lots of events have been cancelled, this doesn't mean that research stops!). We will issue clearer guidance about resubmission in the autumn to help make this as smooth a process as possible being both fair to those who had their abstract already accepted as well as those who were intending to come to ESA 2021 before this issue arose.
Fabian Dorsch ESA Essay Prize and ESA Proceedings 2020
We are going to continue with both the Essay Prize and the Proceedings for 2020 (with the caveat that the conference itself did not take place). In terms of the proceedings, if you had an abstract accepted and would like to publish your full paper in our proceedings for this year, please do send that to proceedings@eurosa.org by 1st November 2020. We want to keep the academic community going in the months ahead and we know how much the opportunity to publish means to many of you.
The conference is co-organised with the Estonian Academy of Arts.
Keynote speakers/
Professor David Davies (McGill)
Professor Bence Nanay (Antwerp)
Professor Virve Sarapik (Estonian Academy of Arts)
Venue/
Estonian Academy of Arts, Põhja puiestee 7, Tallinn, Estonia
Call for abstracts/
We are inviting papers from all traditions and on any topic in philosophical aesthetics, and both systematic and historical presentations are acceptable.
Submissions must be long abstracts (800-1200 words in length) presenting not only the main ideas and claims of the paper, but also the arguments in favour of them. We encourage the presentation of submissions in English, but submissions in other major European languages will be considered equally. For each talk, there will be time for a 20-25 minute presentation, with about another 20 minutes designated for discussion. Please note that full paper submissions will not be accepted and submissions are limited to one per person.
Please use the PDF-file format for submission and render your text completely anonymous to allow for blind refereeing.
To submit your long abstract, please use the EasyChair online submission system (first-time users will be asked to register with EasyChair): https://easychair.org/conferences/?conf=esa2020
We also encourage all submitters to sign up as members of the ESA (which is free): http://www.eurosa.org/
The deadline for submissions of papers is January 13 2020 (re-opened), and we aim to inform you about the result of our selection process by the end of February, depending on the number of submissions.
All papers presented at the conference are eligible for publication in the Proceedings of the ESA. (http://proceedings.eurosa.org)
For all enquiries regarding the prize please contact Karen Simecek, the secretary of the ESA/ secretary@eurosa.org.
Please send all your questions to the conference organisers/ conference@aeurosa.org